Fondi BESA sh.a. signed a Loan Agreement in the amount of 6 Million Euros with the Black Sea Trade and Development Bank
---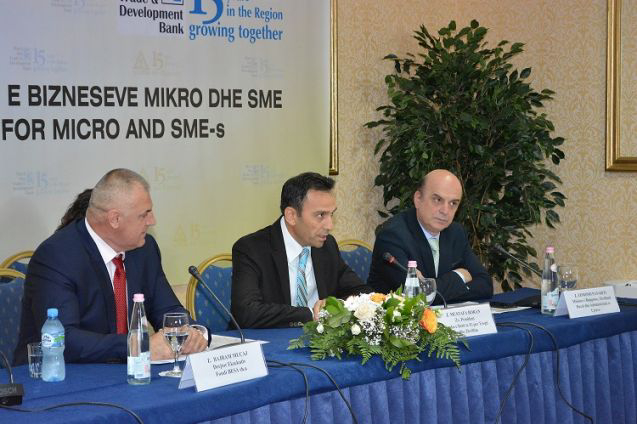 In the framework of conclusion of a Loan Agreement in the amount of 6 Million Euros between the Black Sea Trade and Development Bank and Fondi Besa sh.a., on July 9th was held a press conference at "Tirana International" Hotel, with the participation of Mr. Mustafa Boran – Vice-President Banking at the Black Sea Trade and Development Bank, Mr. Edmond Panariti – Minister of Agriculture, Rural Development and Water Administration, Directors of banks and microfinance institutions which operate in Albania.
Through this agreement, Fondi Besa sh.a. has the opportunity to expand the lending activity for small and medium enterprises, which are considered as pillars of the Albanian economy and account for over 70% of total employment, more than 70% of annual GDP and account for nearly 99% of all registered businesses in Albania. They are considered as the most efficient tool for transition economies, which generates sustainable economic growth, employment and poverty reduction.
This loan will be used to finance micro and SME businesses mainly in these purposes:
– Financing of specific projects or investment programs for the creation, modernization and diversification of projects in industry, agriculture and manufacturing as well as in the services sector.
– As capital for businesses in industry, agriculture and processing businesses, manufacturing and services as well as financing needs for working capital of projects or specific investments.
– Financing of businesses in industry and agriculture sector, which are oriented towards export.
The successful realization of this Loan Agreement between Fondi BESA sh.a. and the Black Sea Trade and Development Bank is a support and continuation of the mission of Fondi BESA sh.a. to contribute to economic growth and poverty reduction in the country's urban and semi-urban areas, by financing micro and small enterprises in Albania. Recognizing the strategic importance in providing a significant contribution to national economic welfare, in job creationIn, in creating entrepreneurial spirit and innovation, Fondi Besa sh.a., as a leader in the microfinance institution, gives great importance to lending to small and medium enterprises.
In the albanian reality, the microfinance institutions are active and present in financing SMEs. At the end of 2013, results that the microfinance institutions have about 62 thousand active clients, with a loan portfolio of 16.4 billion ALL. Only during 2013, these institutions disbursed more than 35 thousand loans, with over 10.5 billion ALL in support of small and medium enterprises.
Fondi BESA sh.a., as a leading institution in the albanian microfinance market has consolidated its presence and activity through an expansion in the entire country, with 65 offices and with a clear and ambitious plan of expansion in the coming years.
Currently, Fondi BESA sh.a. has about 28,000 active clients and loan outstanding about 5.6 billion ALL (approximately 55 Million U.S. $) and since the beginning of the activity has given around 120,000 loans amounted around 40 billion ALL (approximately 400 Million U.S. $).
In the framework of its strategy for further expansion and consolidation of activity, diversification of sources in order to meet the needs for funds, Fondi Besa sh.a has built long-term partnerships with donors and serious financial institutions. Part of achieving these objectives, is the cooperation with the Black Sea Trade and Development Bank. This agreement marks the beginning of a long-term cooperation between Fondi BESA sh.a. and the Black Sea Trade and Development Bank.
The Black Sea Trade and Development Bank (BSTDB) is an international financial institution with 15 years of experience in support of economic development and regional cooperation in the Black Sea region, through the trade and lending of various projects, guarantees and equity participation of private enterprises and public entities in the member countries.
It was founded by 11 member states and Albania is one of its shareholders. Other shareholders are Armenia, Azerbaijan, Bulgaria, Georgia, Greece, Moldova, Romania, Russia, Turkey and Ukraine.
The Black Sea Bank has signed 12 loans in Albania worth 106 million Euros. These crediting are mainly concentrated in the steel industry, telecommunications, health and SME sector.
Financing micro and SMEs remains a priority for the The Black Sea Bank, as most member states are mainly small economies, consequently, the sector of micro businesses and SMEs remains a real locomotive in our region. This is why we give utmost importance to micro businesses and SMEs in Albania and we are trying to provide more funding in these sectors.
Download Gazeta Shqiptare
Download Ekonomia
Download Koha Jone
Download Mapo